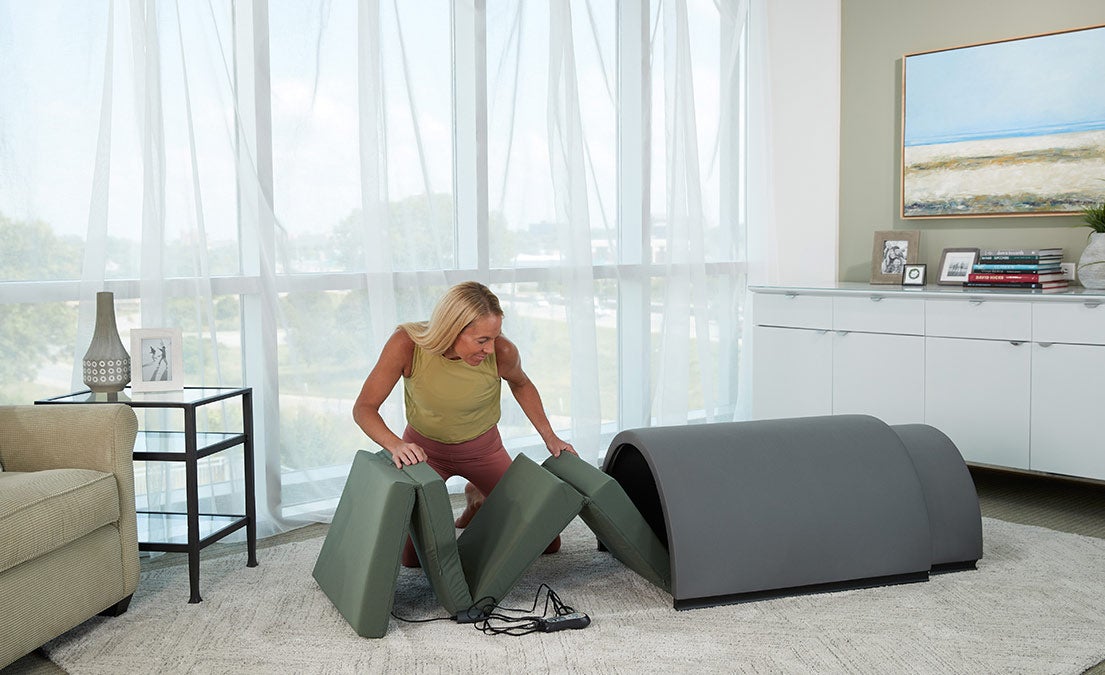 In 2016, the gym that I used had a traditional sauna and I made it a habit to add a sauna session at the end of my workouts a few times a week to support training recovery.
At the time – I didn't know any of the benefits of a sauna and simply used it because it felt amazing and was relaxing to me.
Around this time, the idea of both heat/cold therapy was taking off in popularity and I was drawn to the potential benefits of both the sauna and the cold plunge.
When I moved to a new city for a job change, I lost access to the regular sauna at my gym and had challenges finding a traditional sauna close enough to me to use it multiple times per week. Unfortunately my house wasn't big enough to add a traditional barrel sauna, so I researched almost every possible portable sauna option on the internet.
I was lucky enough to find a Sauna studio close to my house and became a member. This studio used the Sunlighten Solo System as their sauna infrared sauna of choice, so I was able to "test" it out for about a year before I considered buying.
In 2022, I committed to the idea of buying my own portable infrared sauna and landed on the Sunlighten Solo System since I had used it dozens of times. I was drawn to the Sunlighten Sauna based on it's minimalist profile and the fact that I could store it in my closet.
For the past 18+ months, I have used the Sunlighten Solo System at least 3 times per week and will share all of my opinions on this infrared sauna throughout the article.
Who is Sunlighten?
Sunlighten is a company that specializes in infrared sauna therapy and offers several different sauna options for sale on their website.
Sunlighten offers four different infrared sauna styles for sale on their website, with 3 being traditional wood cabin saunas. These traditional wood saunas are designed to be placed inside a house and would require a dedicated sauna space within your home.
What makes Sunlighten unique is that they also offer a much smaller portable infrared sauna called the Sunlighten Solo. This compact infrared sauna can be folded and easily placed into a closet for compact storage, so this is the ideal personal sauna for anyone with limited space (or if you live in an apartment).
What is the Sunlighten Solo?

Overview:
The Sunlighten Solo is a personal sauna that is meant to be both portable and compact. While almost every regular sauna option on the market requires a large footprint, the Solo System is designed for use in a small space.
The Sunlighten Solo is a one person sauna that combines a heating mat (SoloPad) with a sliding double dome system. The solo system uses patented solocarbon infrared panels to create far infrared heat. There are a total of 9 heaters in the solo system – 5 in the solo domes and 4 in the memory foam pad.
To use the Sunlighten Solo, you simply lay comfortably on the pad (SoloPad) and slide the upper dome above your upper body. This will provide an immersive infrared experience from your neck down.
There are 2 heat sources that you can control, allowing you to choose how hot you want the infrared heaters to be for your session. The Sunlighten Solo system can heat up to 150 degrees of healing infrared heat. The 2 heat sources are:
SoloPad: Memory Foam pad that you lay on and can be programmed on a heat scale from 1-9
Solo Domes: Sliding dome system that covers the outside of your body. There are 2 sections that can be programmed, each with a heat scale of 1-9.
Once the portable sauna is programmed and you are inside, you are free to relax for the rest of your sauna session.
The Sunlighten solo system can be programmed for up to 60 minutes of usage. If you would like to go longer, you can simply add additional time via the remote control.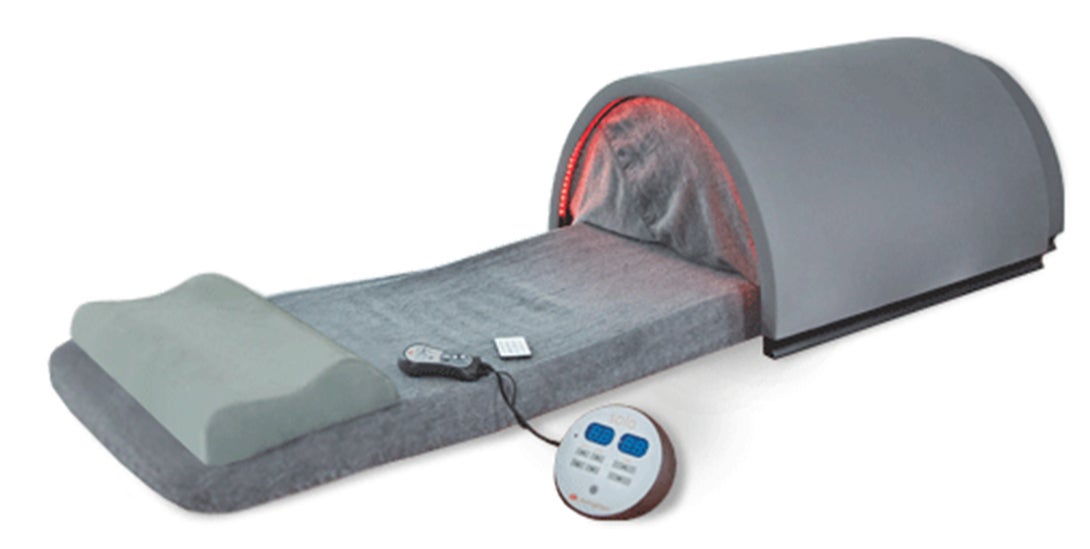 Key Features:
Solo Domes heat up to 150 degrees of infrared heat
Zone based heating, allowing full control of temperature across 2 heating sources (Pad & Domes)
Ultra low EMF technology and environmentally safe (bamboo carbon exterior)
Dimensions:

Solo Domes : 69" x 28" x 18" & 46lbs (Note: there are 2 domes, so the weight is distributed across 2 pieces)
SoloPad: 69" x 23.6" x 4" & 13lbs

Can be used with a standard 120v electrical hookup
Solocarbon heaters offer different settings to find the perfect temperature
Solo System has built in chromotherapy lighting which is supposed to promote healing with lights

Remote control 16 colors, four color-changing modes, and four brightness/intensity settings.
Exploring the Benefits of the Sunlighten Solo Infrared Sauna
Infrared saunas use infrared light to heat the body and are lower temperatures in comparison to a traditional sauna. The Sunlighten Solo system portable sauna has a max heat of 150 degrees, compared to traditional saunas that often are 200+ degrees.
In terms of the Solo System itself compared to other saunas, the clear benefit is the portability of the sauna and its sleek lightweight design. The portable sauna can be set up or put away in the closet in a matter of minutes which provides a ton of flexibility to people with a small space for recovery.
In terms of the health benefits & wellness support of infrared saunas, Sunlighten touts the below benefits of infrared therapy:
Immune System: Improves cell health and overall immunity
Heart Health: Improves circulation, balances blood sugar, and can result in lower blood pressure
Relaxation: Take a relaxing break and de-stress
For additional information on infrared therapy, here is a summary from Dr. Rhonda Patrick:

Kevin's Review of the Sunlighten Solo System Portable Sauna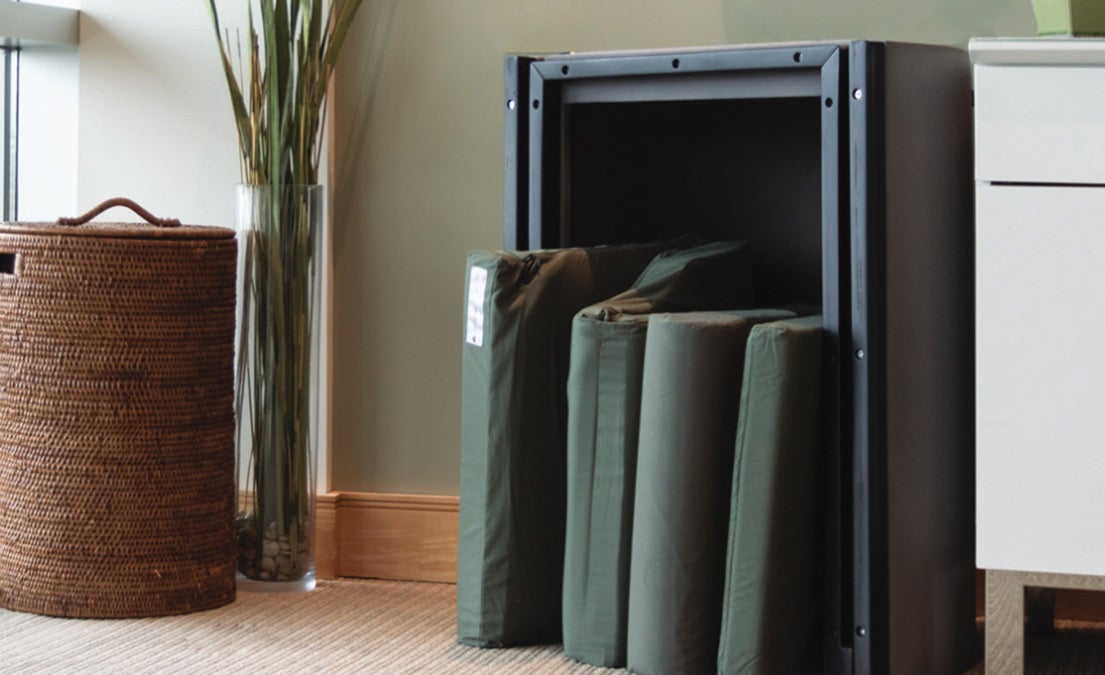 After 18 months and 250+ sauna sessions with the Sunlighten Solo System, would I recommend it?
Here are my thoughts on the solo sauna..The good, the bad, and the ugly:
Kevin's Overall Thoughts:
The Sunlighten Solo System portable sauna is an excellent home sauna option for anyone that has limited space. If portability is a priority for you and you will be moving it around (or putting it in a closet), this is the only portable sauna solution that I would recommend.
Setup is incredibly simple and takes me just a few minutes. Simply put the pad on the ground, place the solo domes on top, and plug in 2x power sources.
The Solo System works best if you allow the Solo Dome and SoloPad to heat prior to using. I try to turn on the Solo System 30-60 minutes prior to using, which creates a very hot personal sauna environment.
The Sauna experience itself is excellent. The Solo System is very comfortable, it feels like you are laying on a comfortable couch or mattress. The SoloPad distributes pressure evenly – If you are comfortable laying on your back, you will be comfortable with the Solo System.
Since the Sunlighten Solo System is a infrared sauna, the temperature is much lower than a traditional sauna (150 degrees with the Solo System vs 200+ traditional). With that said, I find the hottest settings to be quite challenging and my core body temperature is certainly elevated after typical use (I go for 35-45 minutes).
If you decide to purchase the Solo System – I highly recommend buying the pad cover to place on top of the SoloPad. The pad cover helps protect the SoloPad from sweat and is machine washable, so this is almost required in my opinion.
Compact storage and put away of the Solo System is just as easy as setup. The 2 solo domes nest inside each other and can fit inside of a standard closet.The SoloPad folds and can fit inside of the domes, so this portable sauna offers ultimate movability with a sleek profile.
While I do love the Sunlighten Solo System portable sauna and use it multiple times per week, I would prefer a traditional barrel sauna if that was an option for my lifestyle. I love the experience of walking into a dry sauna, pouring water on the rocks, and having the traditional sauna experience.
Since I don't have the space for a traditional barrel sauna – I do believe the Sunlighten Solo Sauna is the best option for my lifestyle and home setup.
In summary – I highly recommend the Sunlighten Solo Sauna to anyone that does not have the space for a traditional sauna or does no want to make the financial investment of a wooden sauna.
Sunlighten Solo System Portable Sauna Pros:
Extremely portable sauna that can be folded & broken down for compact storage (Really good option for people in an apartment or smaller house)
Infrared heaters are super powerful & the Solo System can be very challenging at the highest temperature settings
Comfortable sauna experience – You can lay comfortably on the memory foam SoloPad
Quick & easy access to infrared therapy anytime
No maintenance issues after 18+ months of regular usage
Sunlighten Solo System Portable Sauna Cons:
Solo System provides infrared therapy from the neck down, no exposure of the face
Pad Cover (additional purchase) is a requirement in my opinion to maintain hygiene of SoloPad
If you don't have portable space, you will need to set up & break down the Solo System for each use (takes minimal time, but an added step). Large amounts of wires can be unsightly.
It is a personal sauna, meaning all of your heat therapy sessions will be by yourself (Note: The community aspect of a traditional wood sauna is a draw for a lot of people).
Chromotherapy lighting doesn't do much for me, so I never use it
Differences Between the Infrared Sauna & Traditional Sauna
Saunas have been around for centuries as an ancient healing method, and they are a popular way to relax and improve health. There are two main types of saunas: traditional saunas and infrared saunas.
Traditional saunas use hot air to heat the body. The air temperature in a traditional sauna can range from 150 to 195 degrees Fahrenheit. The heat from the air causes the body to sweat, which can help to detoxify the body and improve circulation.
Infrared saunas use infrared light to heat the body directly. Infrared light is a type of radiant energy that can penetrate the skin and heat the body from the inside out. The temperature in an infrared sauna is typically lower than in a traditional sauna, ranging from 110 to 140 degrees Fahrenheit.
Which type of sauna is right for you?
The best type of sauna for you will depend on your individual needs and preferences. If you are looking for a sauna that will help you detoxify your body and improve your circulation, then either type of sauna can be a good option. However, if you are looking for a sauna that will help you lose weight or improve your skin health, then an infrared sauna may be a better choice.
It is also important to consider your medical conditions when choosing a sauna. If you have a heart condition or high blood pressure, then you should talk to your doctor before using a sauna.
Sunlighten Solo Sauna FAQ
How much is the Sunlighten Solo?
The Solo System varies in price depending on time of year and amount of inventory that Sunlighten has.
Sunlighten has fantastic customer service and I would recommend chatting them on their website at this link.
How hot does the Sunlighten Solo System get?
The max temperature of the Solo System is 150 degrees, which is standard for an infrared sauna.
Infrared sauna temperatures typically reach 110-150 degrees which is lower than a traditional sauna.
Which Sunlighten Sauna is right for me?
If you are looking for a portable sauna, the Sunlighten Solo system is right for you.
If you want a wooden infrared sauna in your own home, consider looking at the mPulse Smart Sauna.
How long are your sauna sessions with the Sunlighten Solo System?
I use the Sunlighten Solo system portable sauna for 30-45 minutes on the max temperature.
There are 2 controllable heat sources (SoloPad and Sliding Double Dome System) and I sauna at the max setting for both.
Where Do You Store the Solo System?
I store my portable infrared sauna in my office closet.
The 2 Solo Domes nest inside of each other and the memory foam SoloPad can be folded for storage.