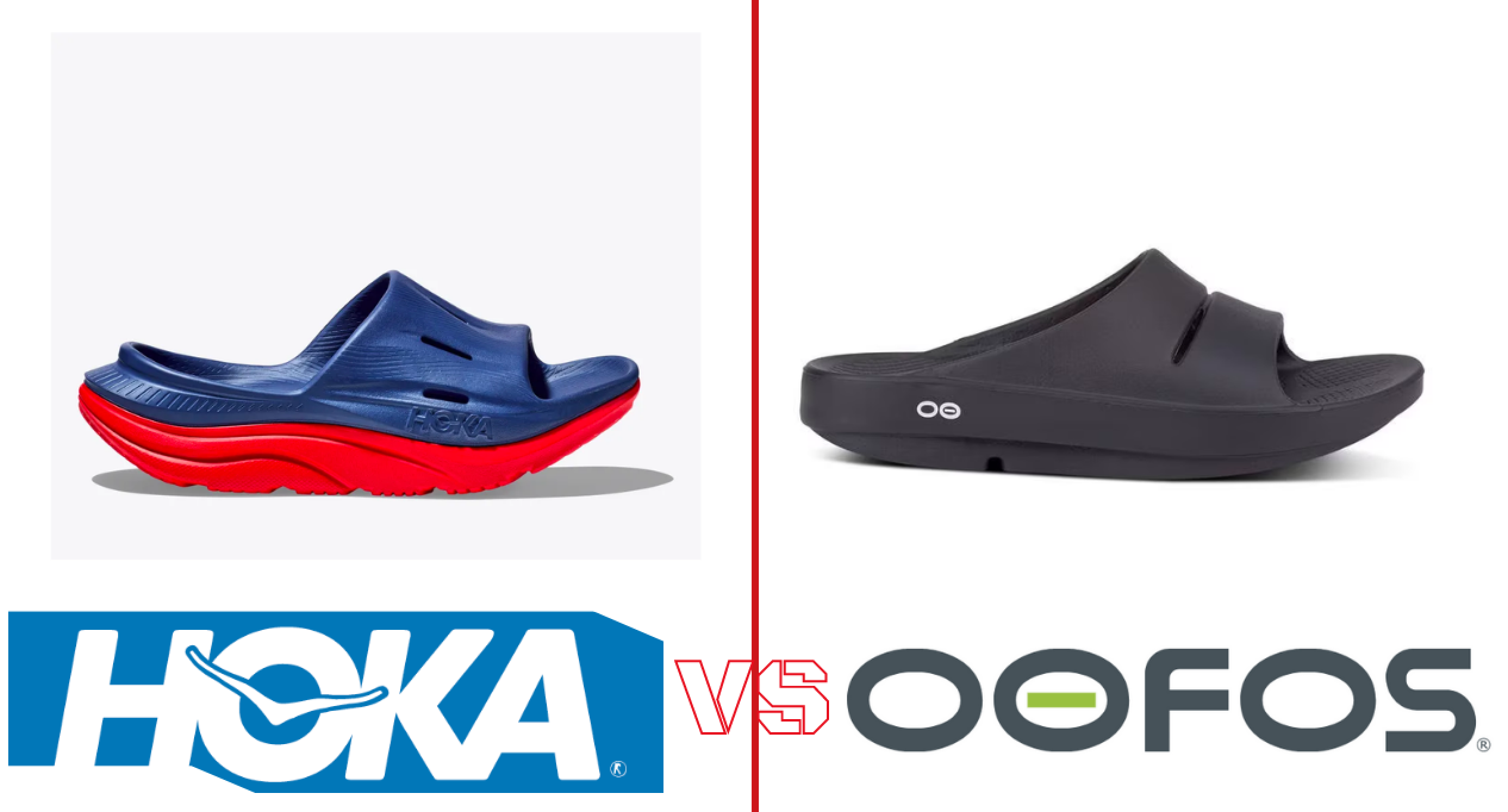 For those that take physical training seriously and put in significant weekly workout volume, there will come a point where the recovery process will need to be a serious focus.
This is particularly true for runners that put in dozens of miles per week. The pounding of joints on the pavement and trails can lead to sore feet and even plantar fasciitis pain. Post run recovery is critical to the health of your muscles, joints, and feet.
Outside of traditional recovery methods like compression boots, Recovery shoes are an interesting option to explore (especially for runners or people with poor foot health).
Recovery shoes are a product designed to give your feet a break and promote active recovery while moving throughout the day. These super comfortable recovery shoes or recovery sandals are something you put on after your workout and wear throughout the day.
There are many recovery shoes on the market, but which are the best recovery shoes between Oofos recovery sandals and the Hoka slide?
In this article I compare the two and ultimately crown the winner of best active recovery shoe on the market between Oofos versus Hoka.
Before we jump into the battle between Oofos vs Hoka, let's do a quick overview of recovery footwear and define what recovery shoes are.
Which Recovery Slides are Best?
Summary: Oofos vs Hoka
Best for the average person
Best for Runners & Athletes
What are Recovery Shoes?
Simply put – Recovery shoes are a super comfortable shoe designed to help athletes recover from workouts faster. They are shoes that offer much more arch support, cushioning, and shock absorption in comparison to normal shoes
Recovery shoes are often made of foam and typically have a wide toe box, increasing blood flow to the feet and promote recovery.
There are many different styles of recovery footwear, ranging from sandals to slip ons and slides.
Wearing recovery shoes can be both comfortable and a key tool in helping you get back to working out sooner than ever!
Who are Recovery Shoes For?
Recovery shoes are for any athlete that puts in high workout volume and is looking to improve recovery time post workout. The best recovery shoes on the market reduce stress and are great at providing relief.
It is important to know that recovery slides are NOT just for runners or for use after a long run.
While runners are the typical users of a recovery shoe, it would be perfect for any athlete including CrossFit, Hybrid Athletes, and even team sports athletes.
When Do You Wear Recovery Shoes?
Recovery shoes are meant to be worn post run or after a tough lower body workout session. Train hard, recover hard.
Simply take off your running shoes after a planned run and switch to a pair of recovery slides. I make it a habit to keep a pair of recovery shoes in the trunk of my car and often find myself immediately switching from my running shoes to the slides as soon as I get back to my car.
Recovery shoes and recovery flip flops are super comfortable, so they also work as a pair of shoes for everyday wear.
I wear recovery shoes virtually all day, including running errands and going to the grocery store. I like to think of Recovery flip flops as the modern day house slippers for athletes.
Reviews: Oofos Slides vs Hoka Ora Recovery Slide
Pros:
Extremely comfortable pair of slides
Great option for most people (Runners, people with foot issues, elderly people)
Keeps feet cool
Looks like a normal pair of flip fops, nobody will know you are wearing recovery sandals
Cons:
People with wide feet may have fit issues
Not sold in half sizes which can result in sizing issues
Can squeak while walking which could annoy some people
Highlights:
The Oofos Ooahh slide is a step up from the Oofos original and offers a Oofoam strap for added support and comfort.
Designed with Oofoam Technology, which allows these sandals to absorb 37% more impact in comparison to traditional footwear foam materials
The closed cell foam is machine washable and also designed to minimize odor
Very comfortable and has high arch support
30 Day Risk Free guarantee
Oofos Slide Review:
Oofos launched in 2011 and their entire branding is based around recovery footwear.
They sell much more than Oofos sandals, also offering: Shoes, Boots, Clogs, and Slippers. This is in contrast to Hoka who specializes in running shoes and just happens to also offer recovery footwear.
The Oofos Ooahh slides are a more advanced version of the Oofos Ooriginal sandal. The original shoes are recovery flip flops, whereas the Ooaahh slides offer a larger strap for added stability.
Since Oofos is a company that only sells recovery shoes, their products are built around comfort.
The Oofos Ooahh slide has their patented OOFoam Technology, which absorbs impact 37% better in comparison to traditional footwear. The patented footbed geometry is also designed to stress on knees and joints.
These Oofos slides come in 4 color options and are sold in whole sizes (no half size options).
In general, the Oofos Ooaah slides look very similar to a traditional pair of sandals. You would never be able to know that they are recovery sandals just by looking at them.
Bottom Line:
Oofos is a company that specializes in recovery shoes and their Ooahh slides are a extremely comfortable option
These Oofos slides are very stylish and are a great option for most people
The only complaint would potentially be tied to fit, as Oofos does not offer half sizes and some people with wide feet have issues finding the perfect fit
Pros:
Great option for Runners
Extremely light and offers the famous Hoka rocker sole
Tons of style options (17 different colors)
Backed by the American Podiatric Medical Association
Cons:
Does not offer Half Sizes
People with narrow feet will potentially have fit issues
Highlights:
Type: Slides
Price: $60
Weight: 7.8 ounces
Top Features:

Extremely light and stable pair of slides
Designed for people with neutral gaits
Has a higher bed of soft cushion that is built for comfort & recovery
Four dedicated airflow channels to increase breathability
Featuers the Hoka trademark rocker sole
Manufactured with sustainability in mind with an earth friendly sugarcane footbed
Approved by the American Podiatric Medical Association which promotes foot health
Hoka Ora Recovery Slide 3 Review:
Hoka burst onto the running scene over the past 10-15 years and is now one of the heavyweights in the industry for running shoes.
You've probably seen marathoners running in Hoka shoes with their trademark oversized sole. More recently, Hoka has become a popular shoe choice for anyone dealing with plantar fasciitis pain and tired feet (not just runners).
The Hoka Ora Recovery Slide 3 is a recovery sandal that is extremely light, super comfortable, and offers a ton of cushion compared to a traditional shoe.
These Hoka recovery sandals are built with dedicated airflow channels to make the slides more breathable and keep your feet cool while wearing them. Additionally, they were built with stability in mind and offer great support while wearing throughout the day. For a recovery shoe, these offer a super wide base, wide toe box, and arch support.
My favorite feature of these Hoka recovery sandals is the comfort. They have the trademark Hoka rocker sole and are super comfortable in all the right places. You actually feel bouncy while walking around with these slides which is a cool feeling.
If sustainability is important to you, the Hoka slides are manufactured with an earth friendly sugarcane footbed which is unique in the world of recovery sandals.
Hoka designed these recovery sandals with foot health in mind and these have earned the seal of acceptance for the American Podiatric Medical Association.
My only complaint after wearing these Hoka recovery sandals for over a year is that my foot tends to get an irritation if I am walking in these shoes for an extended amount of time (multiple miles). The rubber rubs against the top of my foot in creates an irritation.
With that said – recovery shoes in general are not designed for walking super long distances and instead are meant to be worn around the house.
Bottom Line:
The Hoka Ora Recovery Slide 3's are extremely light, comfortable, and offer good arch support. These are a top notch pair of recovery shoes.
I've worn these recovery shoes for over a year, both as everyday wear shoes as well as dedicated recovery shoes. They show no serious signs of wear and all indications show that these will last a very long time.
The Hoka Slides offer all of the same benefits as Hoka running shoes, offer the trademark rocker sole and a stamp of approval from the American Podiatric Medical Association.
If you are someone that deals with foot health issues or plantar fasciitis, Hoka is the way to go.
The Verdict: Hoka Ora 3 vs Oofos Ooaah
Which is the best option when it comes to recovery shoes: Oofos vs Hoka?
The Hoka Ora 3 is my winner for best recovery shoes for runners and athletes.
Hoka makes an amazing shoe and the Ora 3 is an incredible pair of active recovery shoes. I wear them every single day and put them on as soon as I am done with a run.
I do believe that wearing the Hoka Ora 3 helps be recover faster and they are able to absorb impact throughout the day.
For people that are NOT runners or athletes, The Oofos Ooahh is a great sandal for the average person.
In future articles, I will do additional comparisons between Oofos vs Hoka sneakers!