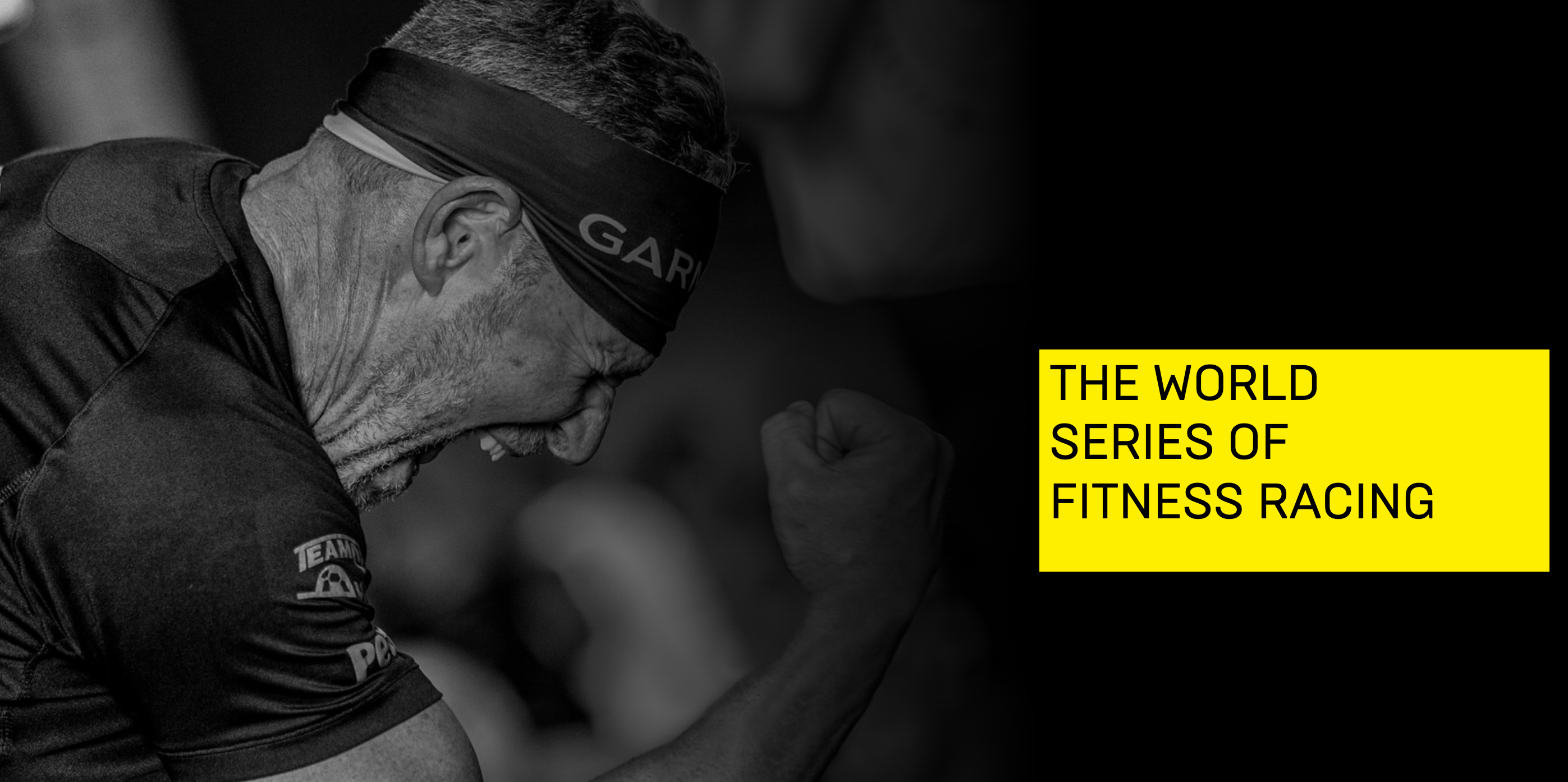 In 2018, a new sport burst onto the fitness seen known as Hyrox, which is a fitness competition designed around running and natural movements.
Hyrox bills itself as "A Global Fitness Race for Every Body" as well as the "World Series of Fitness Racing."
If you are just discovering Hyrox and coming from the CrossFit or Obstacle Course Racing world, you likely have some questions on how a Hyrox competition works and if it is right for you.
I've committed to making Hyrox one of my 2023 event challenges, so my training will be progressively Hyrox focused in the Summer of 2023.
In this article, I will answer the basic questions regarding Hyrox and you can decide if fitness racing will be your next big fitness challenge in the form of a Hyrox event!
What is Hyrox?
Hyrox is a challenging but achievable fitness race that combines running with functional fitness movements.
Every Hyrox event follows the exact same format, which is a 1km run (0.6 miles) followed by a functional fitness movement (repeated 8 times). At the end of the race, Hyrox Athletes will have run 8km (about 5 miles) and completed 8 basic exercises at dedicated workout stations.
The workout stations are fixed, meaning every Hyrox race has the same progression. The workout stations are:
**Note: Hyrox started in Europe and all weights are listed in Kilograms. I have converted to Pounds below
Workout Station 1 – Ski Erg:
Workout Station 2 – Sled Push:

50 Meter Sled Push
Sled Push Weight Varies by Division (Women 225lbs, Women Pro/Men 335lbs, Men Pro 445lbs)

Workout Station 3 – Sled Pull: 50 Meters Sled Pull

50 Meters; Sled Pull Weight Varies by Division (Women 172lbs, Women Pro/Men 227lbs, Men Pro 337lbs)

Workout Station 4 – Burpee Broad Jumps:
Workout Station 5 – Rowing:

1000 Meters on Concept2 Rowing Machine

Workout Station 6- Farmers Carry:

200 Meters Farmers Carry
Farmers Carry Weight Varies by Division (Women 2x 35lbs, Women Pro/Men 2x 53lbs, Men Pro 2x 71lbs)

Workout Station 7 – Sandbag Lunges:

100 Meters
Weight on Sandbag Lunges Varies by Division (Women 22lbs, Women Pro/Men 44lbs, Men Pro 66lbs)

Workout Station 8 – Wall Balls:

Weight, Height, and Reps on the Wall Balls varies by Division (Women: 75 Reps to 8.9 feet at 8.8lbs, Women Pro/Men: 100 Reps to 9.8 feet at 13lbs, Men Pro: 100 Reps to 9.8 feet at 20lbs)
To get more detail and a better understanding on the flow of the race, check out the graphic above or see the below general flow:
1km Run -> Ski Erg -> 1km Run -> Sled Push -> 1km Run -> Sled Pull -> 1km Run -> Burpee Broad Jumps -> 1km Run -> Rowing -> 1km Run -> Farmers Carry -> 1km Run -> Sandbag Lunges -> 1km Run -> Wall Balls
Athletes participating in the Hyrox Race will have scores tracked with a timing chip on their race bib. Athletes are able to see their performance as well as comparable world wide rankings for added motivation.
Who is Hyrox For?

Hyrox is designed to be a challenging but achievable race for every type of fitness levels, not only elite athletes.
This is a very accessible event that is meant to be for everybody from complete beginners with a minimal athletic background to the pro category.
Hyrox Events are divided up into the Hyrox divisions listed below:
Men/Women
Men's Pro Category/Women's Pro Category
Doubles Men/Doubles Women
Doubles Mixed
GoRuck Men/GoRuck Women
GoRuck Doubles Men/GoRuck Doubles Women
Men's Team Relay/Women's Team Relay
Mixed Team Relay
Within each of the divisions, the competition is also broken up into age groups for a fair competition.
With these different divisions, Hyrox Events are super accessible to pretty much everyone on the fitness spectrum (which is why the races are billed as " A Global Fitness Race for Every Body"").
For a more challenging experience, the GoRuck division was added in late 2022. This follows the exact format of the Hyrox race, but participants wear a GoRuck weighted vest (20lbs Men, 14lbs Women).
A subset of the annual Hyrox events will be the World Championships where elite athletes all around the world compete for the top time. The elite Hyrox Men in the World Championships will finish in around an hour, which is an amazing athletic feat.
Regardless of your fitness level, the wide offering of divisions makes Hyrox a sport that is accessible for all skill, age, and fitness levels.
How is it Different Than CrossFit?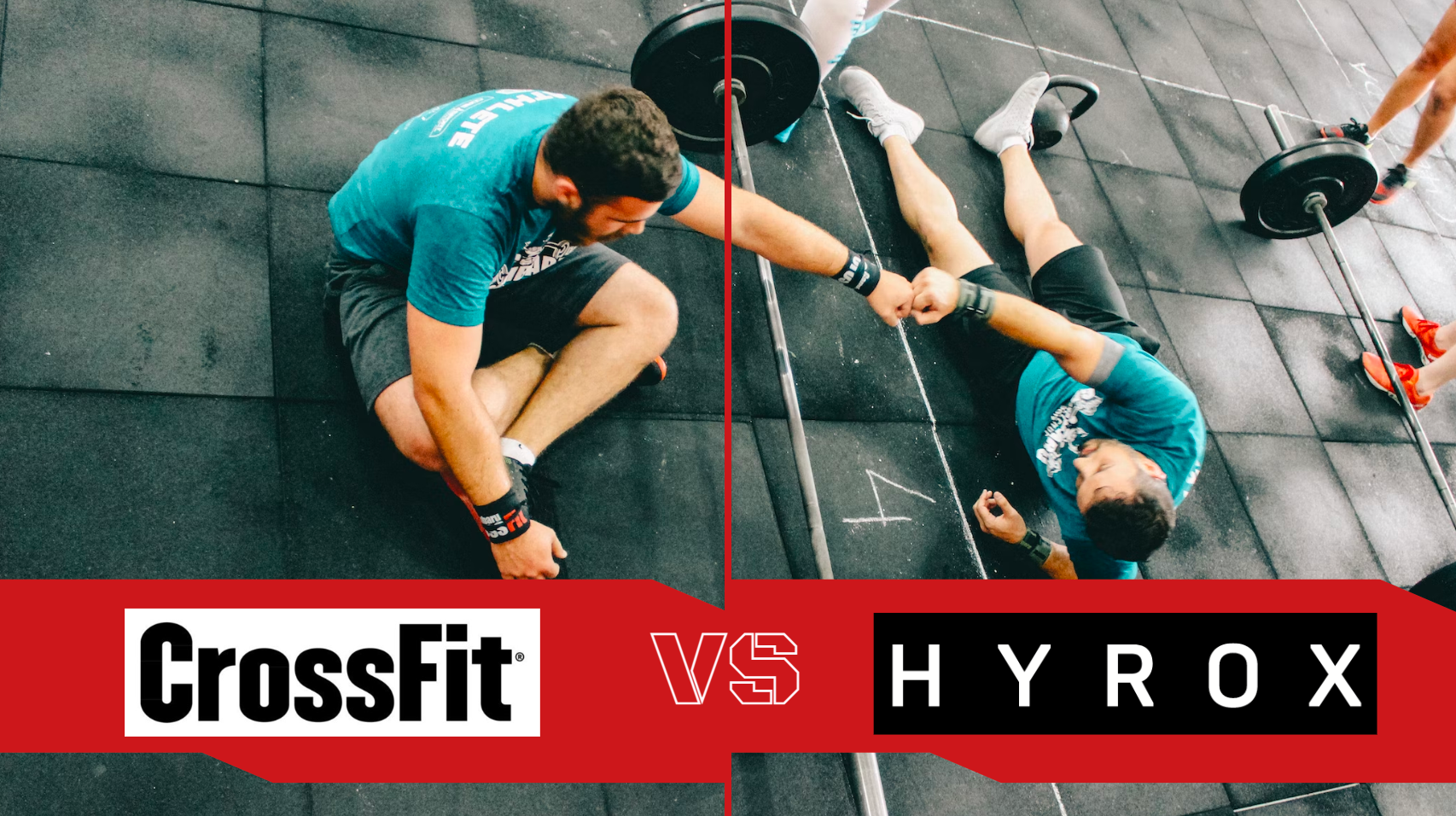 CrossFit is generally defined as constantly varied functional movements performed at high intensity.
Hyrox Events incorporates many of the ideals of CrossFit, but there are many differences which I have listed below:
Both CrossFit and Hyrox are based around functional exercises.
Hyrox is more of an endurance event in compared to many CrossFit workouts.
CrossFit competitions always have different and unique workouts, while every Hyrox event has the same functional exercise format and progression
Hyrox is much more run heavy than CrossFit, with the athletes running roughly 5 miles per race. While CrossFit does incorporate running, most WOD's do not have the running volume of Hyrox races. Typical CrossFit athletes might struggle with the volume of running in Hyrox.
While scaleable, many of the key CrossFit movements are much higher skill level and require technical skills developed over time (Olympic Lifts, Gymnastics Movements, etc). Hyrox is built around running and natural movements that do not have the same barrier to entry or require significant practice (Sandbag lunges, Rowing, Sled Pull, Sled Push, etc)
CrossFit workouts also tend to involve heavier weights that build strength, while Hyrox is more endurance focused
A Hyrox Event will take around 90 minutes for the average finisher, while most CrossFit workouts take 45-60 minutes
Both CrossFit and Hyrox events offer a challenging experience for athletes, but each offers a little bit of a different spin on functional fitness.
CrossFit is more varied and offers higher end skill/weight challenges, while Hyrox is more endurance focused and is the same exercises each time.
What are the Benefits of Hyrox?
Hyrox is perfect for those interested in training like a Hybrid Athlete, meaning you are interested in both running and strength training.
While training for a Hyrox race, you will have to focus on both endurance and general body fitness (Upper and Lower Body Strength). This means that training for Hyrox will offer a combination of both endurance or strength training which will add some variety to your training schedule.
An additional benefit of Hyrox is the fact that each race is the same format with the same running and natural movements each time. This allows you to clearly track progress over time and use previous Hyrox races as motivation to improve.
Lastly – Hyrox is a community based fitness race, so the environment itself is very positive and exciting. While the experienced racer is free to be as competitive as they like, the races are an open environment for any age or skill level.
What are the Downsides of Hyrox?
Like anything, there are tradeoffs with fitness racing and Hyrox in general.
Each person has their own preferences when it comes to training, but some of the potential downsides are:
Consistent Format: Every Hyrox race is the same format and with same running distance (8km Run + 8 Functional Movements). Exercises are done in the same order, so some people will get bored with doing the same run distance and exercises repeatedly.
Lack of Heavier Weights: Hyrox does not place emphasis on heavy weights or high skilled movements, so much of training leading up to a competition will be mastering the basic movements in the race.
Limited Events & Locations: Hyrox is still in its infancy and a growing sport, so there are not a ton of events each year (especially in the USA). At the time of this writing, Hyrox has 4 scheduled events in the current calendar year (across 3 locations).
Specific Equipment: While Hyrox is set up to be a super accessible fitness event, some of the equipment used in the competition is not widely available (Ski Erg, Sleds, Rower) It is possible to train for Hyrox without full access to this equipment, but this is something to consider.
How do I Start with Hyrox?
The best way to get involved with Hyrox is to sign up for a race at their website. The Hyrox team is consistently adding to the event schedule and expanding the location options.
After signing up, your training will need to focus on both running endurance and general fitness/strength training.
Most people would benefit from taking a Hybrid approach to Hyrox training, which could look something like:
Running 3-4x per week
CrossFit or Strength Sessions 3-4x per week
Strength sessions should be a full body workout, hitting both upper body and lower body strength. This could include barbell movements (such as Squat, Bench Press, Deadlift, etc) and accessory exercises such as bulgarian split squats or pull ups.
Hyrox is working on expanding to gym affiliates that specialize in Hyrox training. These gyms will help athletes replicate a race day experience by offering specialized work on the stations.
As the sport of Hyrox becomes increasingly popular, we are starting to see dedicated training programs for the world series of fitness.
Hunter McIntyre, the top Hyrox athlete in the world, offers a dedicated Hyrox Masterclass and programming on his HAOS Training website. Hunter offers videos that explain each station and the strategy he takes in competition.
Long term – Hyrox is working to have partner gyms throughout the world that let athletes train specifically for fitness racing.
What Gear Do I Need to Prepare for a Hyrox Race?
The entire Hyrox race incorporates 6 pieces of equipment. The more you have access to the racing equipment, the better prepared you will be for your first Hyrox event
The 6 pieces of equipment are:
Ski Erg
Sled
Rower
Sandbag
Wall Balls
While in an ideal world you have access to these 6 pieces of equipment, it is possible to get by without all of them.
The Farmers Carry, Sandbag Lunges, and Wall Balls can be closely replicated with a set of dumbells.
In order to train seriously for Hyrox, you will need to try to find access to a Ski Erg, a Rower, and a Sled.
With that said, do not let the equipment aspect deter you from participating in a Hyrox challenge. With a simple running program and a functional fitness practice several times per week, you can show up to Hyrox and have a great experience!
In Conclusion: Is Hyrox for Me?
Hyrox is a sport that is taking the functional fitness world by storm as they attempt to create the world series of fitness.
While rapidly expanding, Hyrox is currently in its infancy in comparison to larger brands like CrossFit.
The sport of Hyrox is simply an endurance test that involves a circuit of 1km runs and 8 functional exercises. The athletes run 1KM and move directly into the prescribes exercises, repeated 8x until finished.
Hyrox offers several different divisions based on fitness level and each division has dedicated age groups. This makes Hyrox a accessible competition for everybody from world class athletes to weekend warriors.
At the end of the day, if you are interested in being a Hybrid Athlete that trains for both endurance and functional fitness, Hyrox is something that will likely interest you.
For additional details, check out the Hyrox website and learn more about upcoming race events around the world