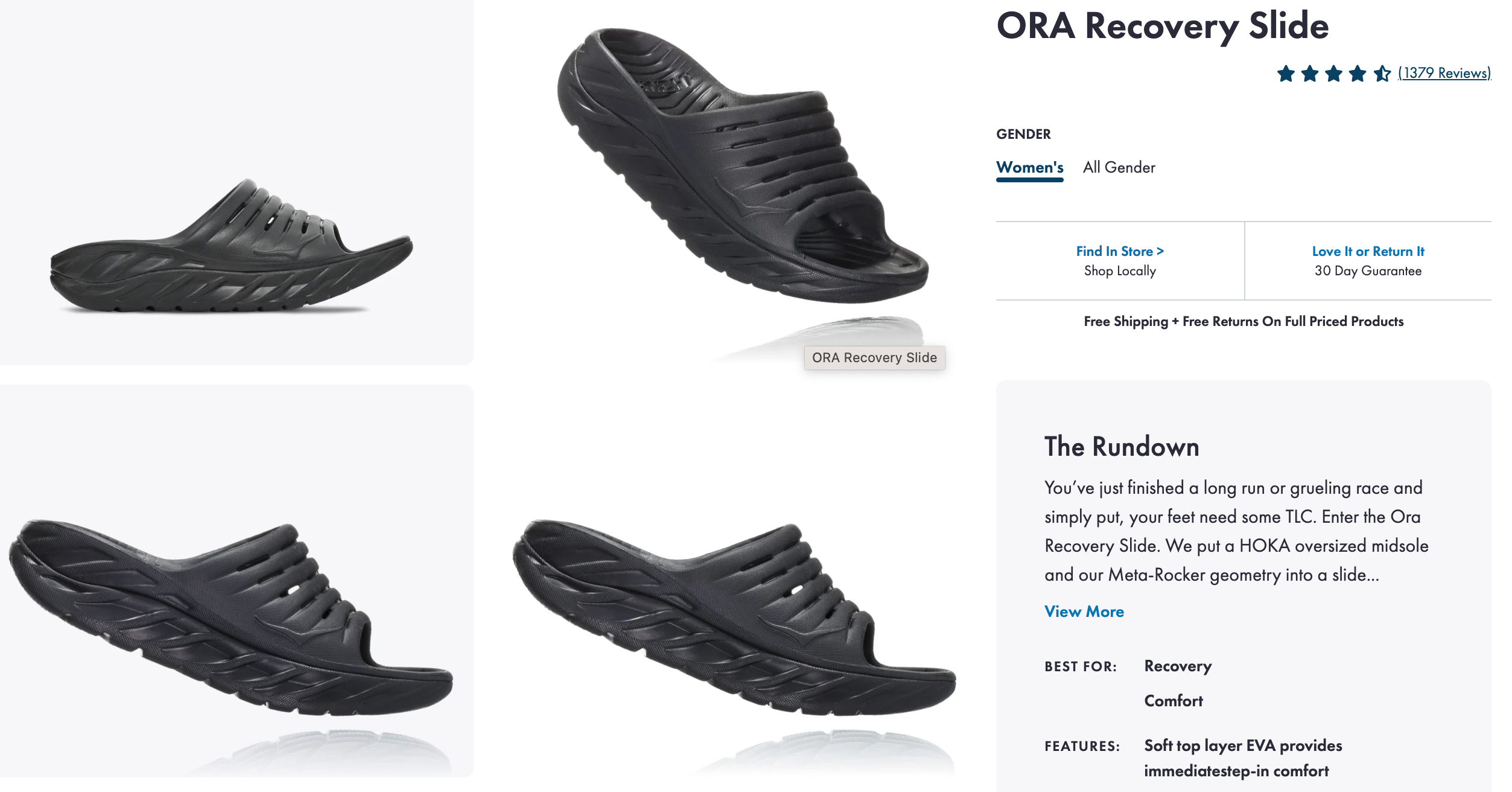 As I got into training for Ultramarathons in 2022, I became super interested in recovery tools for runners.
The quicker I could recover and keep my feet happy, the more training volume I could get in.
One of my favorite recovery products is the Hoka Ora recovery slide and it is a product that I use literally every day.
In this article I will dive deeper into the Ora recovery slide and why it is rated 5 stars in my world of workout recovery tools.
But first, let's give a quick background on Recovery Slides and why they make a lot of sense for runners…
What are Recovery Slides?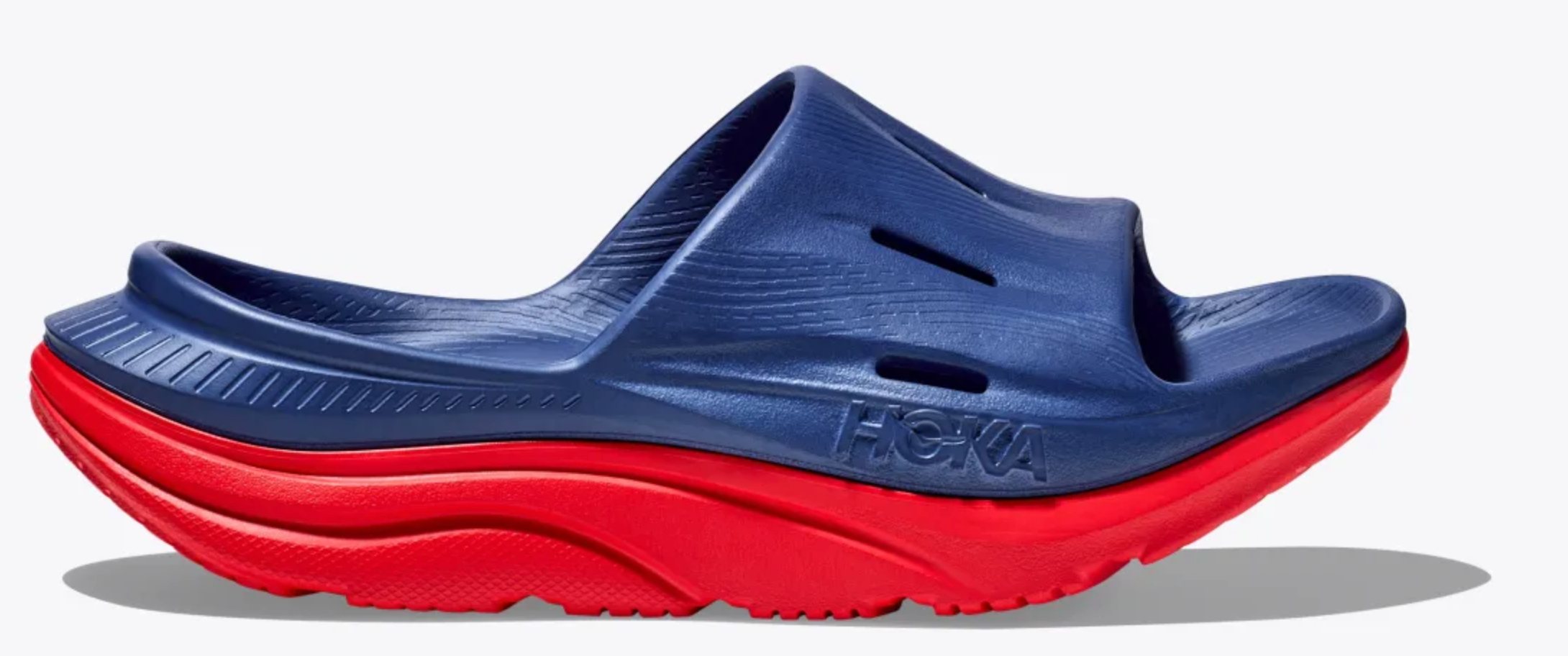 Recovery slides are a type of footwear designed to provide comfort and support after a workout.
They feature a cushioned midsole and a flexible outsole, which help to absorb shock and reduce stress on the feet. The slides also have a wide toe box, which allows for more natural movement of the toes.
Benefits of Using Recovery Slides
There are a number of benefits to using recovery slides, including:
Comfort: The cushioned midsole and flexible outsole provide a comfortable and supportive ride.
Reduced stress: The shock-absorbing properties of the midsole help to reduce stress on the feet, which can help to prevent injuries.
Natural movement: The wide toe box allows for more natural movement of the toes, which can help to improve balance and proprioception.
How to use Recovery Slides
Wear them after a Workout/Long Run: The cushioned midsole and flexible outsole will help to absorb shock and reduce stress on the feet, which can help to prevent injuries.
Wear them around the house: The slides are comfortable and supportive, and they can be worn around the house to give your feet a break.
Wear them for short walks: The slides can also be worn for short walks. They are not designed for long-distance walking, but they can be a good option for short trips to the store or around the block.
Kevin's Review of the Hoka Ora Recovery Slide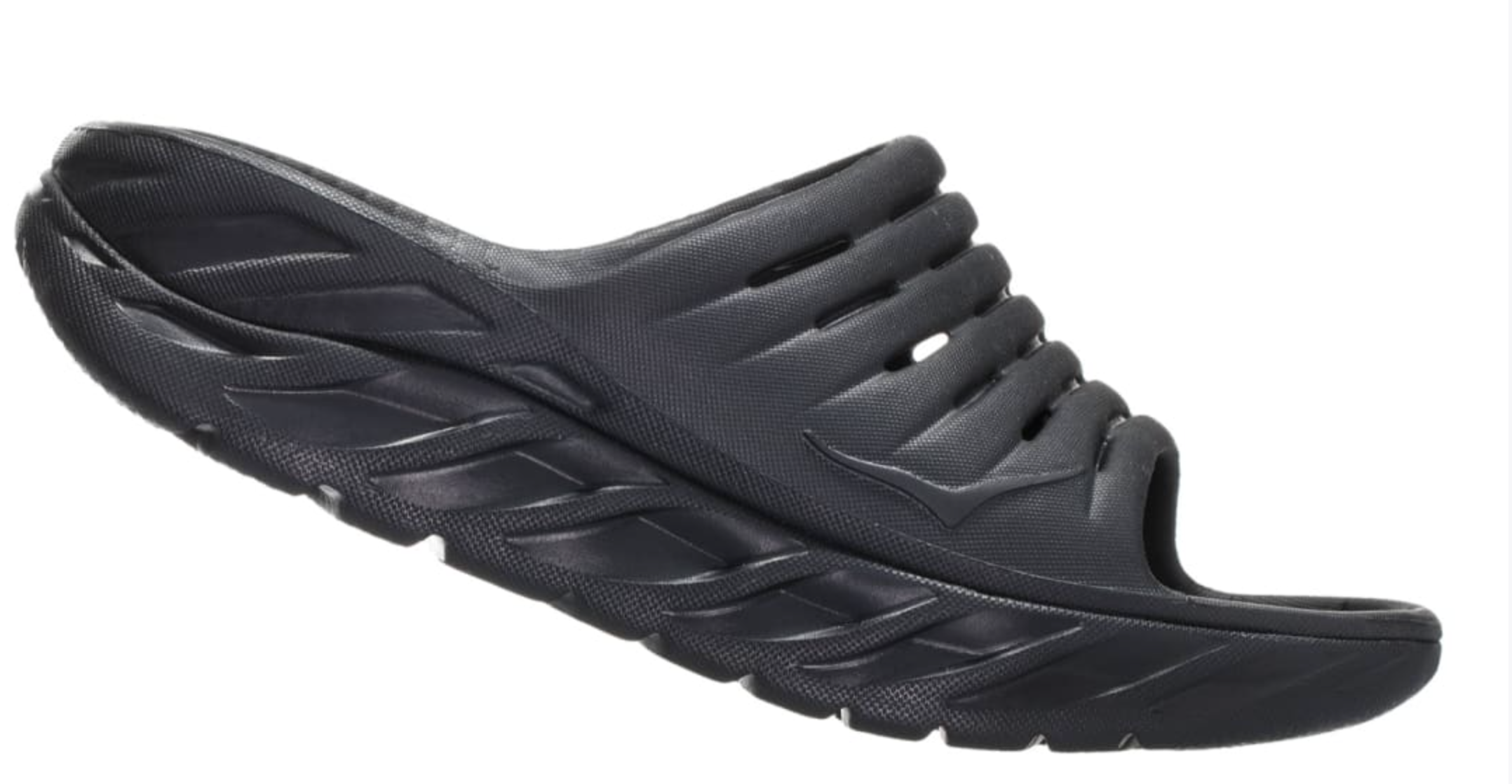 I started wearing Hoka Recovery Slides in 2022 when I bought a pair of the Hoke Ora slides as a replacement for sandals. I'd heard quite a bit about Hoka in the running shoe space, but the idea of a recovery slide was new to me.
After reading through a bunch of customer reviews and realizing that most rated at 5 stars, I made the decision to purchase the Ora Recovery Slide.
Here are my top takeaways of the Hoka Ora Recovery Slide after wearing them for 12+ months:
What Do I Love About the Hoka Ora Recovery Slide?
1) Comfort:
The first and most obvious reason for buying a pair of recovery slides is for the comfort. The whole point of a recovery shoe is to give your tight feet a break and aid in recovery.
Good News: The Hoka Ora recovery slide is crazy comfortable.
My favorite feature of the Hoka Ora Recovery Slide 3 is the comfort. They have the trademark Hoka rocker sole and are super comfortable in all the right places. You actually feel bouncy while walking around with these slides which is a cool feeling.
While they aren't the most stylish shoes in the world in my opinion, the superior comfort of the Hoka Ora makes them worthwhile for an everyday wear. I didn't realize how comfortable they were until I went back to wearing a standard pair of flip flops for the day..It really is no comparison.
The Hoka Ora recovery slide is currently my most worn pair of shoes while living everyday life. I put them on literally every morning after working out and wear for the rest of the day.
This takes me into my second reason why I love the Hoka Ora's, their overall durability..
2) Durability:
I've worn the Hoka Ora recovery slide daily for 12+ months and they show no serious signs of wear or indications that I will need a replacement anytime soon.
For a $60 recovery slide, their enhanced durability is one of my most pleasant surprises. For the amount of time I have worn them, it is great that I haven't hadn't had to consider purchasing a second pair.
The quality of this slide from Hoka is top notch and I believe the oversized rocker sole is part of the reason behind this. This recovery slide has a perfect blend of being light weight (5.1 ounces) and serious durability.
3) Versatility:
While I bought the Hoka Ora to be a recovery shoe after running and workout sessions, it has turned into my everyday shoe.
I expected to wear them for 1-2 hours post workout and then wear regular shoes or flip flops afterward. What I learned was that the Hoka Ora's are so comfortable, I never find a reason to take them off of my feet.
I've used these while traveling through airports, running errands, and going on short walks.
The only time I would NOT wear the Hoka Ora recovery slide is on walks for longer than 20-30 minutes.The rubber rubs against the top of my foot in creates an irritation.
Otherwise – The Hoka Ora is a super versatile shoe. Wear it post workout, while doing everyday things, and even while traveling.
What do I NOT Like About the Hoka Ora Recovery Slide?
1) Style:
Let's face it, the Hoka Ora's aren't the best looking shoes in the world.
They have a super thick sole and could easily be called ugly by many.
The style part doesn't bother me as I am wearing them for recovery and comfort, not style. I'm also wearing them around the house and not necessarily trying to impress anyone.
If style is a key factor for you, you may consider the Oofos Ooaah.
2) Packing for Travel:
The Hoka Ora's are super thick and this can be a challenge if you are packing them for a trip.
They do NOT collapse which can cause issues if you are trying to pack into a carryon suitcase. I dealt with this on a recent trip and the slides ended up taking up way too much space in my carryon.
99% of the time I travel, I will wear the Hoka Ora's through the airpot and not pack them in my bag.
Bottom Line:
Bottom Line – I love my Hoka Ora recovery slides and highly recommend them.
If you are looking for a comfortable shoe that will last you 12+ months of daily use, these shoes are the choice.
For a fairly decent price of $60 bucks, I would definitely give the Hoka Ora's 5 stars!
These will be a staple in my Ultramarathon training moving forward!